Agriculture can be an important engine for growth and poverty reduction. But the sector is underperforming in many countries partly because women, who are often a crucial resource in agriculture and rural economy, face constraints that reduce their productivity. The female share in India has remained steady at just over 30 percent. The world bank report of 2017 indicates that women farmers in developing countries have fewer assets and less access to inputs and services than their male counterparts. Given the current circumstances of agriculture and modern supply chains, there should be more focus on increasing their share in agriculture.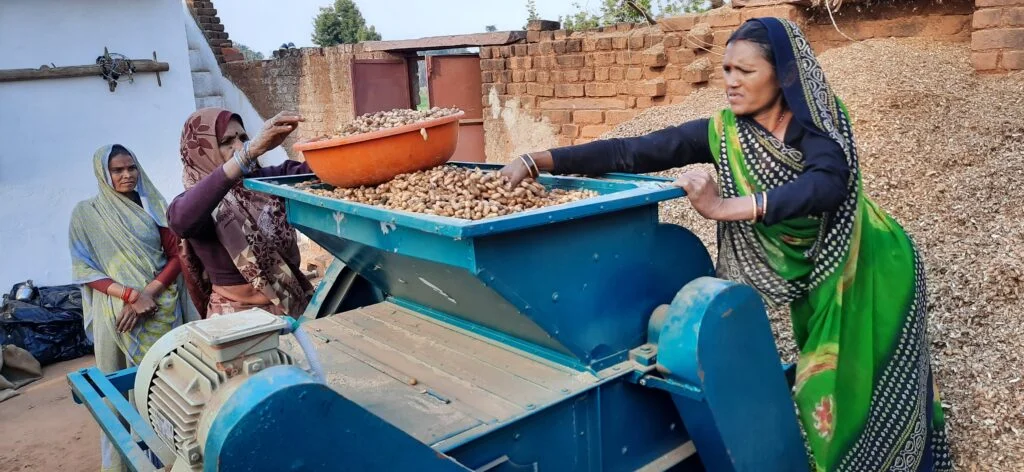 Shivpuri District lies in the Bundelkhand region of Madhya Pradesh. Shivpuri district is bounded on the north by Morena, Gwalior, and Datia district, on the east by Jhansi district of UP, and the west by Kota district of Rajasthan and on the west and Guna district on the south. The district has a small hilltop presence everywhere that makes it more scenic. It has a cool and dry climate. Bundelkhand is an area affected by migration crisis, feudalism, and gender discrimination. The economy of Bundelkhand is agrarian, and a larger population is dependent on agriculture. Despite having rivers as sources of rainfall, the region has a serious water deficit. Agriculture is responsible for a significant proportion of the overall economic growth of the district. Groundnut is also a major crop in the area, which has attracted farmers due to its cash value in the market. Groundnut has been sown on a large scale in Bundelkhand. Farmers preferred it over urad, moong, and sesame. India is the second-largest producer of groundnuts in the world. Groundnut is the major oilseed crop in India, and it plays a major role in bridging the vegetable oil deficit in the country. Agricultural productivity in Bundelkhand is hampered by various factors, such as the unpredictable pattern of rainfall, poor quality, and a lack of knowledge of modern agricultural practices, which leads to the injudicious use of low-quality agricultural inputs.
In 2019, a Self-reliant initiative through joint action (SRIJAN) observed that women farmers contribute to groundnut farming. But they lacked awareness about cultivation and trading and were cheated by middlemen. They lack basic skills like negotiations, collectivization, mutual benefit concept, grading and sorting, to name a few. This is where the team and community members started conducting the study; the idea was to check whether there was any feasibility of initiating Women only collective to promote Agri entrepreneurship in the initial three villages. The Collective started with a vision on making it sustainable, self-run and managed by women and processing multiple products in the times to come, thereby altering their income. Initially came many issues that dampened the vision, but the team spirits remained unwavering. Round of brainstorming sessions and surveys at multiple villages helps figure out the key issues like high production cost coupled with rate fluctuation, minimal holding, unavailability of potential market connectivity, presence of many local traders and storage problems.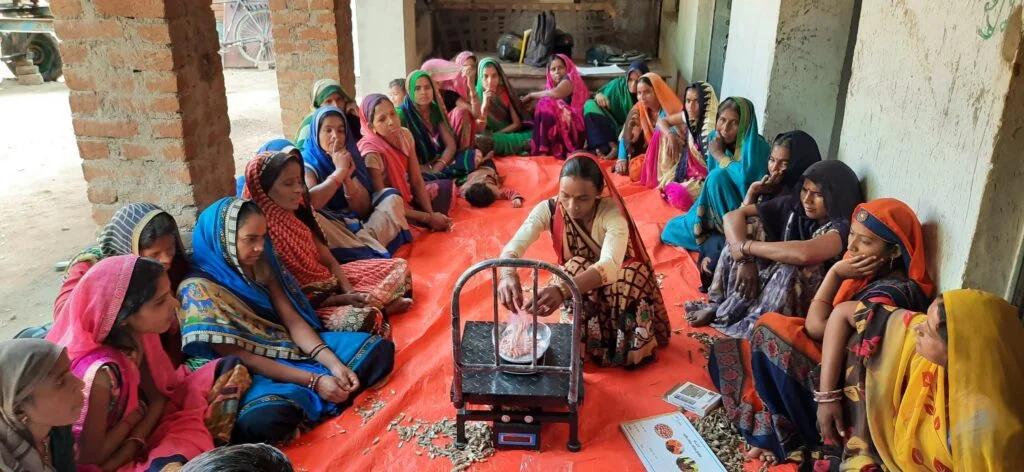 Self-reliant initiative through joint action (SRIJAN) organize these women into 'Shipre farmer producer company Ltd. The name SHIPRE is an acronym of Shivpuri women producer rural enterprise that got incorporated in November 2021 and is now a legal entity. To reach more and more women, a non-formal non-saving community institution- "WOMEN PRODUCER GROUP (WPG)" with an average of 25 women, was established in the villages composing the poor and marginal family which acted as a channel for creating demand and supply. They initiate meetings as and when necessary, mostly for livelihood and training-related activities. There are 70 such WPGs spread across 30 villages in the Karera block of Shivpuri. These Women Producer Group (WPG) helps in procurement, and the produce from them gets collected at the Village Level collection centre. From the collection centre, the groundnuts are sent to the Processing Unit. Primary processing is being done that too by the women trained on quality parameters.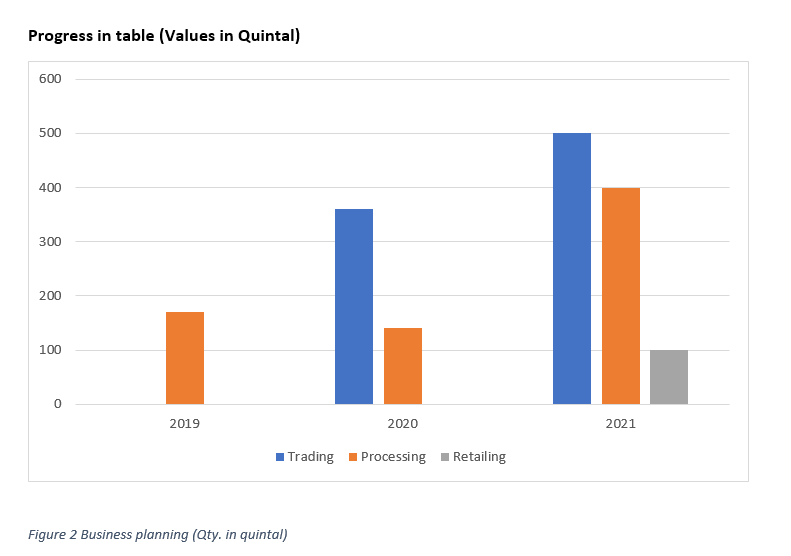 Women members collectively own the company, will have an all-woman board of directors (BOD) selected from within the producer groups. The Producer company is formed to provide women farmers with opportunities to earn a sustainable livelihood through market linkages. It also focused on the well-being of the Scheduled Castes and Tribe Women engaged in farming. This year the Farmer's company has set a benchmark of collecting 100 MT of groundnut. 70 MT has been achieved so far, and the operation is still in progress.